2007 KEYNOTE SPEAKERS
Note: Unfortunately, Dr. Sam Marshall of Northwestern State University, Louisiana and author of Barron's Tarantulas and other Arachnids has been forced to cancel his lecture at ArachnoCon 2007. He learned only recently that he would be scheduled to teach a summer session biology course at his university and regrets that he has had to cancel. Although time is short, we hope to find a replacement and will announce any developments here. In the meantime, we are happy to announce that we have added two Q&A [question and answer] expert panels and one additional guest lecture.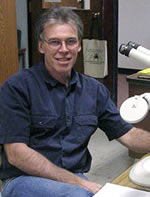 Dr. W. David Sissom
West Texas A&M University
Systematics, Natural History and Ecology of North American Scorpions
Dr. Sissom's research interests lie in systematics, natural history, and ecology of North American scorpions, particularly the Vaejovidae. He has also published taxonomic papers on scorpions in the Caribbean region, southwestern Asia, and the Middle East. Additional research interests include the systematics of other arachnid groups, and he has published several taxonomic papers on Araneae, Schizomida, Opiliones, and Amblypygi. He serves as Curator of the Invertebrate Collection at WTAMU and has been involved in studies of invertebrate biodiversity at several locations in northern Texas.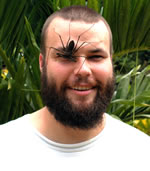 Jeremy Huff
American Museum of Natural History
Jeremy will be giving two presentations:
An Introduction to the Whipscorpions (Thelyphonida: Arachnida)
An Overview of the Scorpion Systematics Lab at the American Museum of Natural History
2007 GUEST LECTURERS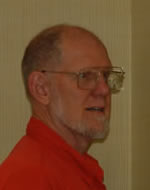 Dr. Fred Sherberger
Atlanta, GA
Sexing Tarantulas
Dr. Sherberger is a retired entomologist with a strong interest in spiders, tarantulas included. He is a long-time member of both the American Tarantula Society (and an associate editor for the past 15 years+) and the British Tarantula Society.

Fred has sexed hundreds of tarantula molts for people throughout the US, and can often sex molts from tarantulas as small as 1⁄2 inch body length. His illustrated "Sexing Tarantulas" presentation will make note of external secondary sex differences (e.g. body coloration and conformation, epiandrous glands, epigynal area, and tibial apophyses) of larger specimens, and show his techniques for sexing small molts using a dissecting microscope.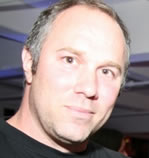 Frank Somma
New York
Non-theraphosid Mygalomorphs & True Spiders in Arachnoculture
Arachnoculturist and importer Frank Somma will give an overview of spiders in the hobby other than tarantulas. Mygalomorphs such as trapdoor and funnelweb spiders and true spiders such as widows, wandering spiders and more will be discussed.
Dan Ventura
tarantulas.com & Northwest Zoological, Seattle
Cyriopagopus sp. 'Blue' in the Wild with an Overview of the Exotic Animal Trade in Malaysia
Dan and NW Zoological/tarantulas.com owner Alex Orleans recently visited Malaysia and, among other things, observed Cyripagopus sp. 'Blue' in the wild. Dan will be sharing their experiences with us.
Randy May
Savage Digital, Oklahoma City
Arachnid Photography
2007 Q & A PANELS
TARANTULA CARE & BREEDING
This is an excellent opportunity to pick the brains of leading tarantula specialists in a public forum. Questions regarding captive husbandry and breeding as well as any other aspect of the tarantula hobby can be posed to our panel of four highly experienced tarantula keepers.
Michael Jacobi [moderator] — A specialist in arboreal tarantulas, MJ has over 30 years experience keeping tarantulas and a couple decades experience as an exotic animal dealer and breeder. He recently closed "Michael Jacobi's Spider Shoppe" to devote all of his time to education, publishing and travel for field research. He is the publisher of ARACHNOCULTURE magazine and creator of the Tarantulas in the Terrarium instructional DVD.
Frank Somma — With a couple of decades experience with tarantulas and other invertebrates, Frank has not only a wealth of knowledge regarding the care and breeding of tarantulas, but also is responsible for importing from Europe many of the species that our hobby now enjoys.
Bill Korinek — Along with his business partner Bruce Effenheim, Bill is one of the most successful and consistent breeders the US tarantula hobby has seen in recent years. Although he is known as a specialist in the big South American theraphosines, Bill has bred a wide variety of tarantula species. Bill was a guest lecturer at last year's debut ArachnoCon. Together, Bill and Bruce run Theraphosid Breeding Project and are dedicated to captive propagation.
Eric Reynolds — In the past couple of years Eric has become one of the most successful breeders in the US and has produced a wide range of tarantulas, from New World to Old World and arboreal to terrestrial.
INTRODUCTION TO THE TARANTULA HOBBY
Prior to the beginning of Friday's lectures, we will hold a short Q&A session designed for parents, children and beginning tarantula keepers. Hosted by Michael Jacobi and Bill Korinek, this discussion group will give those new to the hobby a chance to acquire a great deal of background information that not only will make for greater enjoyment of the hobby, but also augment the weekend's experience and inform any purchasing decisions during Saturday's ArachnoExpo.
please check back often as all information is subject to change